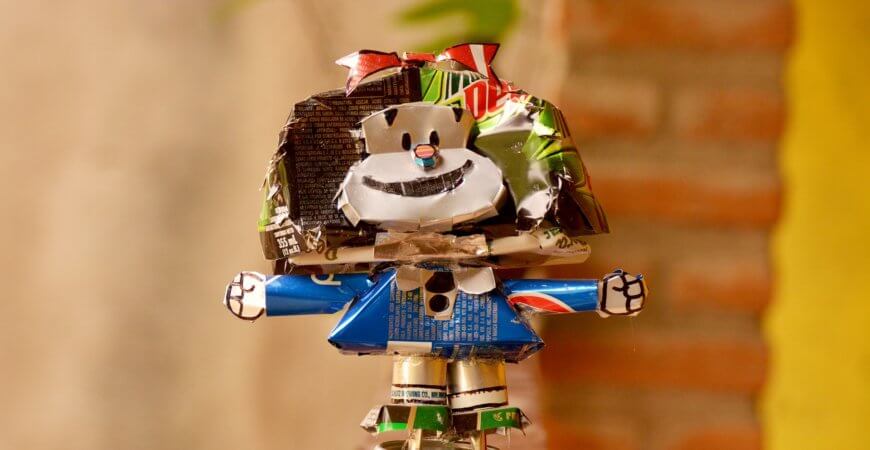 More than meets the eye – creative uses of scrap metal
By now everyone has heard about recycling and probably implements it into their daily life to some degree. For decades, as a society, we've mass-produced tons of goods which ended up as an equally huge amount of waste. Recycling is a good way for people to have an actual impact on the world and be a part of a change for the better. But the modern trend of reusing old materials in creating new products is good not only for the environment, but also for the economy.
What is upcycling?
Another trend currently rising in popularity is upcycling. It is a process of taking waste or unwanted goods and giving them a new and more beautiful purpose. Oftentimes, instead of buying something new, you can just alter some of the things you already own. Creating your own unique pieces of decoration or furniture will not only save you money, but leave you with a feeling of accomplishment. Many materials can be upcycled, however, if you are interested in starting your own DIY upcycling project, a good place to start is scrap metal. It allows for variety of options depending on your experience and abilities.
New life for tin cans
Probably one of the easiest projects you will find is converting old tin cans. They are very common in kitchens and can be quite quickly transformed into a variety of objects. You can simply use them as containers for cooking ingredients or put your artistic abilities to good use and create decorative pots for your plants or organizers for your desk.
Unique furniture
A lot of metal furniture is often made from recycled materials. Lately, however, furnishings created with pieces of scrap metal are gaining popularity. Whether you want to make a coffee table out of an old clock or create a garden bench using old car parts, such one-of-a-kind pieces of furniture can add a lot of character to a house.
Modern cabinets
With more and more people going paperless in their work and documents, you may have an old filing cabinet somewhere that is no longer of any use. They are usually not designed to add any decorative value to your house, but this may change with a simple addition of paint and some ornamental handles. This way, you can get a very modern piece of furniture without spending a lot of money on it.
Artwor
Depending on your artistic skills, you may want to take on the more demanding task of creating a unique art piece. There are plenty of ideas available online if you are looking for inspiration. The only thing really limiting you here is your imagination.